One of the numerous sayings I use to stress in the fishing classes I held in the Chicago-land area for 41-years was, "if you are not one step ahead, you are usually one step behind". What this boils down to is those who follow the pack are usually behind on what's really happening. By the time you get wind of a hot lake or new technique, most of the "damage" has already been done. If you fish like the average angler your results with be…just average. If you want to stand out and be a head of the masses, try to think "outside the box" as much as possible. What does that exactly mean? It can mean evaluating a situation and thinking of a better solution or presentation, or doing something different. Often, it's something the muskies haven't seen before.
Being an only child probably helped me be "a little different" in my thinking because I usually had to amuse myself. Unfortunately, some of my early ideas such as putting sour kraut in a neighbor's car's gas tank to see if it would work as well as gas was one small example of thinking outside the box that got me stuck in a corner for a while with a few red marks on my butt. But at least I had a creative side at about 6-years old!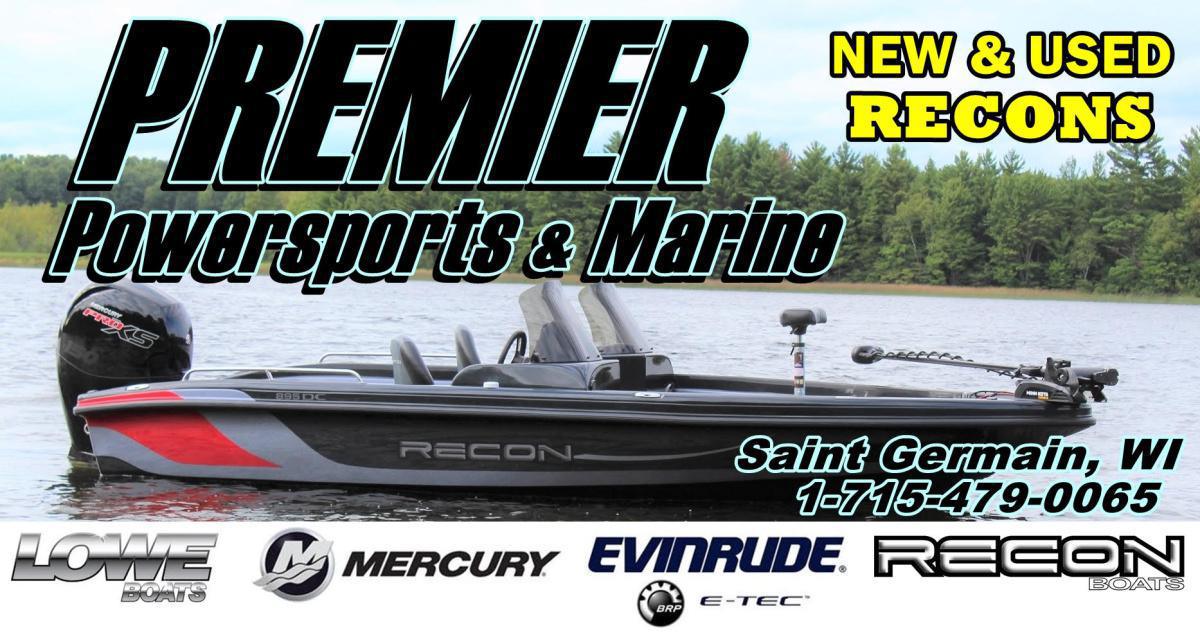 Jigging
When I started musky fishing in September of 1973 with good friend Tony Portincaso, we were mostly using a technique that was generally unique amongst musky anglers outside of Tony's circle of friends…jigging. Tony and "the Rockford Crew" caught hundreds of muskies out of Northwest Wisconsin's lakes on Reapers and "creatures" with Deer and Bone lakes being the biggest producers. That evolved in using different style heads and dressings for various bottom conditions, time of the year, and fish activity level. We also found that using 5 to 6-inch suckers on flat swimming jig heads was a super deadly technique in the few weeks prior to ice up. Not only did it catch muskies, but also a lot of bonus bass, pike and walleyes.
In November of 1979 Bill Davis and I fished Conneaut Lake in Pennsylvania and started trolling the deep weed edges. Several weeks earlier four of us had boated 22 muskies over a long weekend, all in the 12 to 18-pound class, using this same technique. After catching a few more muskies in this range by trolling, I decided a change was needed since this lake had a reputation for holding some big muskies. We decided to jig fish inside turns with a jig and sucker combination. I figured since all boats had been trolling and no big ones had been caught, it was time to think outside the box. Trollers couldn't hit the few tight inside turns present, but we could cast into them. I ended up catching my first 30 pound plus musky, plus we saw a few other good ones.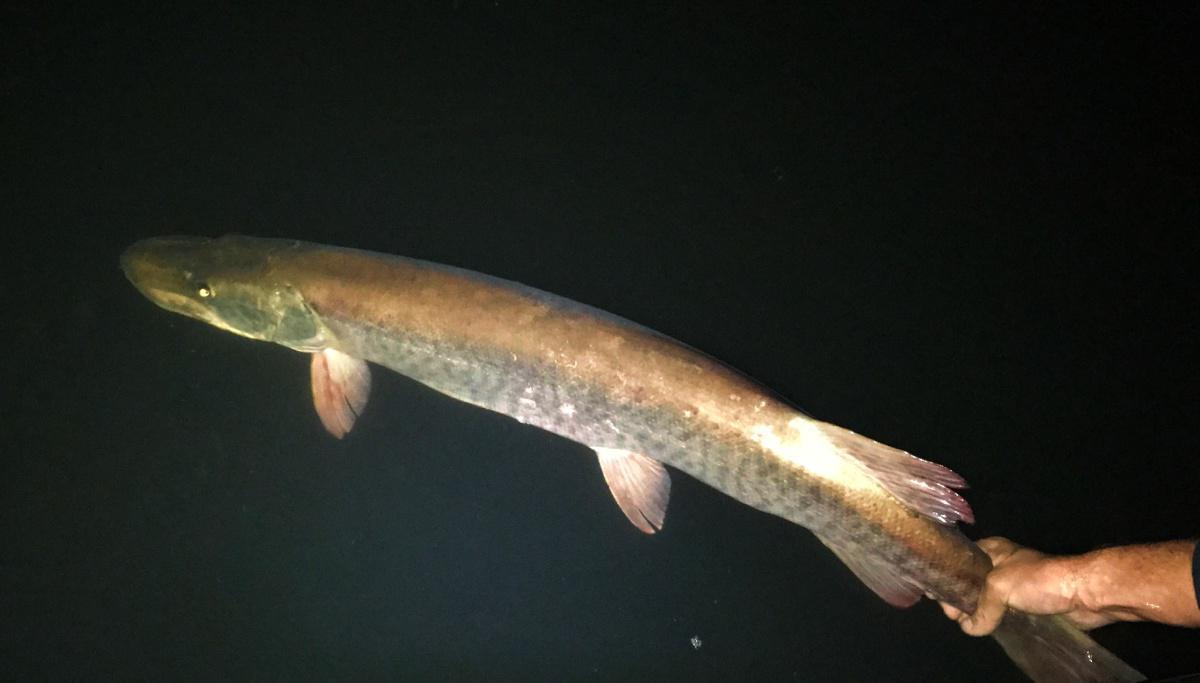 About 16-years ago I was invited to do some seminars out West for North American Fishing Club. During the outing I meet another speaker I was impressed with named Bill Siemantel, a big bass specialist from California. During one of our chats between seminars, he reached into his tackle box, looked both ways to make sure nobody was watching, and pulled out a few big tube jigs. He explained these were his secret big bass lures. He would often fish two man tournaments by himself so he didn't have to show anyone these home-man killers, and he won a bunch. I looked at these lures and immediately thought what a great "toss back" lure these would be for muskies!
On my next trip to Eagle lake the following July, I caught a 49-incher on a tube that we knew was there, that wouldn't follow in normal presentations on a re-visit to the spot; got a 45-incher on a toss back that followed in my buddies weed-fouled crankbait, and caught a 42-incher during a sunny calm part of a day by pitching into pockets in a cabbage bed. To top things off, while my partner was figure 8-ing a low 40-incher on his end of the boat, I started to figure 8 my tube at the other end, more or less to see how it looked. A 47-incher we didn't know about blasted the tube. That was four extra muskies on that trip that I am sure most, if not all of them, would have been un-catchable on any other presentation. As far as I know, that was the start of using big tube jigs for muskies. The following year Lindy Tackle came out with the Tiger Tube. Other great tubes are now on the market such as Red October and Titan Tube.
I still use tubes a lot. They can be great as toss back lures, and are great for finding fish that often ignore more common presentations. One thing I have found out is that fast moving tubes will often trigger strikes from muskies that won't hit tubes fished at slower speeds. When using the 8-inch Tiger Tubes, I often put two 3-4-inch small tubes head-hooked on two of the hooks on the rear treble. These small tubes act as stabilizers, allowing you to burn this lure in at fast bucktail speeds without it rolling over. The more weighted Red October tubes can also work great at high speeds. My first cast ever with a 12-inch Red October tube, which was retrieved at a high speed, resulted in a fat 50-plus inch hawg that several anglers had been chasing for a few weeks.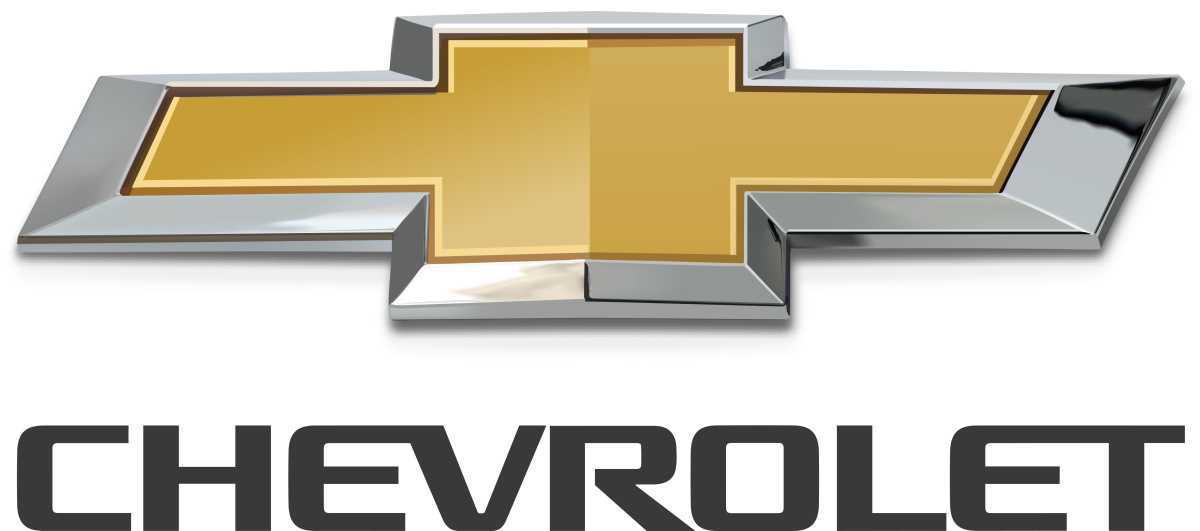 Trolling the Weeds
Back in September of 1974 I was part of an epic musky show shot by the Lindner's for their In Fisherman TV series. The "Shoot Out on Deer Lake" has become a classic, not only for the 20 some muskies Al and Ron Lindner, Gary Roach and I caught, but for the way many were boated. Al and I were fishing together, and doing pretty well casting Lindy's giant tantem spinnerbaits on our 5ft. 6-inch rods. The lures were very wind-resistant and hard to cast since this was way before the longer rod craze kicked in. Since the lake's shoreline was lined with weeds and the fish were active, we decided to troll the big spinners. We knew this technique had been used on pike but we never heard of this as a musky tactic. While Al and I pounded muskies trolling with one lure on a fairly short line and the other about where the bubbles from the motor started to peter out, Ron and Gary decided to troll jerkbaits (another odd-ball presentation at the time) and also did well.
Since then I've caught a lot of muskies trolling big weed flats, and long narrow bands of weeds that would take a long time to cast. I love trolling blade baits under low light conditions. If the near-surface weeds are erratic in growth, an L-armed spinnerbait will be my lure of choice since it is the most weedless type of spinner. If the weeds are two to five feet under the surface, a double 10 bucktail has triggered a lot of muskies in recent years. Trolling shallow-running lures such as Shallow Raiders, Shallow Invaders, and deeper diving jerkbaits such as Suicks and Bobbie Baits over weeds a little farther under the surface has also been productive for me and many other musky fishermen over the years.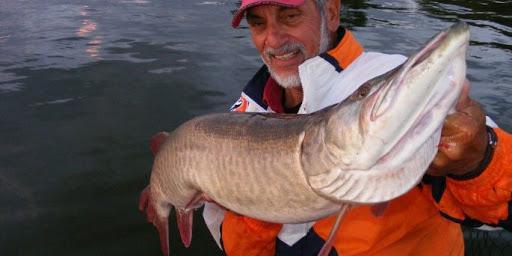 One weed-trolling tactic a little different that has allowed me to boat some weed fish under calmer conditions when they are not chasing, is to slow-troll the largest Johnson Silver Minnows with a plastic trailer. These probably have some of the dullest hooks on anything I use, so they really must be sharpened to a razor's-edge. I'm actually doing a combination of trolling and jigging with this presentation. The lure is tossed about a long cast behind the boat, then I slow troll in a lazy-s pattern. I want the lure to flutter down into the weeds, then I gun the motor a little to bring the lure up again. After a short run, another slow-down and speed-up is executed. Braided line, a rod at least 8-feet long, and setting the hook and gunning the motor after a strike will up your odds on solid hook-ups, because some slack line has to be picked up and weeds might have to be cut a bit.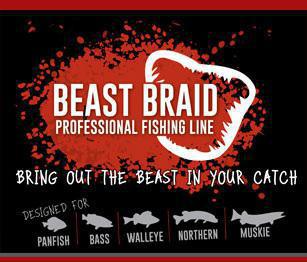 Make the Cast Others Won't, Don't, or Can't
With more and more anglers in tune to where to fish for muskies, a lot of fish have positioned themselves in harder to reach spots. Inside weed edges, long rock or weed-lined slots and cuts in reed beds that may need a "bomb cast" to reach are some of the targets that are often missed. I've seen a number of big muskies holding along the inside part of smaller weed beds. A bucktail cast with a rainbow arc and starting to tighten the line and reeling AFTER the lure hits the water is not the way to catch these fish. Casts should be as flat or horizontal as possible. Your thumb should be put on the reel just before the lure hits the water to remove most of the slack out of the line. The rod should be pointed fairly low when the lure hits, then lifted as the retrieve is started. Keep the rod high and keep the blades churning just under the surface. The blades on double 10 bladed bucktails often move weeds aside allowing for a smooth run through the weeds.
Last year the four biggest muskies that came into my boat were caught on Top Raiders. Two of those fish were caught because I was second in the boat and I could fire this compact lure farther and more accurately than someone tossing a more wind-resistant bucktail in the front of the boat. This often enabled me to reach a spot that was bypassed by someone else. During our musky school on Lake of the Woods I had the pleasure to fish with the father and son team of Tim and Joe Lange. They were fun to fish with and both caught their personal best muskies. Near the end of the week we were fishing across a small bay with scattered cabbage that had a reed-lined shoreline. At one point in the reedy bank there was a small slot that cut into the reeds. When we got in range, I wound up, played the wind a bit, and fired a long bomb cast into the slot. As the top water plopped its way back to the boat, a long form shot out of the slot, crushed the lure and a short time later a 50-incher was in the boat.
Making a more difficult cast is certainly a key to success, but lure selection and how they are fished can be very important. My good friend Joe Bucher is a master at presenting lures with approaches that most anglers wouldn't consider. Many years ago when the jointed Depth Raider came out, Joe was making eye-popping catches out of hard-fished local lakes night fishing the weeds with this lure. A big part of his success was what he did upon contacting sub-surface weed growth. After feeling weed the weed tops, he would pause and let the lure float up a bit, then continue his weed-ticking retrieve. A natural reaction would be to pull hard once weeds were felt, but this would only drive the lure further into the vegetation. There is certainly more to cranking the weeds such as depth of the weed tops, length of cast, line diameter, and how high or low the rod is held. Also, while many night-time musky hunters opted for calmer waters fished with top waters, anglers such as Joe and Jim Saric often did the opposite: preferred weeds that were affected by the wind. After all, if you play the wind during the day, why wouldn't the same logic work at night? It will, with the correct presentations.
While bomb casts and working a lure through vegetation takes some skill, a simple cast that's often neglected takes no extra skill, just a little bit of confidence, or trust in what I'm telling you. When many anglers fish around a point, edge of a flat, or through a slot, only the edges are usually fished. They neglect to check the open water out from the tips or in the slot. When you come around a tip, do a "180", and make a few casts out towards open water. When fishing a slot, especially if any current is going through it, again make a few casts out into the open water. The less musky action you are having on any given day, the more apt you are to contact some open water muskies. While this section is about "making the cast", a quick trolling pass weaving off the tips and through a bigger slot is a very effective way to check out the open water after casting out the structures.
While muskies often suspend off these structural conditions, there is another factor that enters into making these casts "out to the middle of nowhere". Often when and angler is focused on fishing a particular structure and not paying attention to any small secondary feature that may be present, they miss fish, particularly the biggest ones using the area. These few casts out to open water may alert you to a small secondary hump, thin ridge or small weed clump or two that you have been by-passing. A good rule to remember is that if you have been fishing a great looking spot on a regular basis and only seeing small to medium size muskies in lake that has big ones, you are probably missing a secondary feature that's holding the big one! Check the waters outside of where you normally present your lures.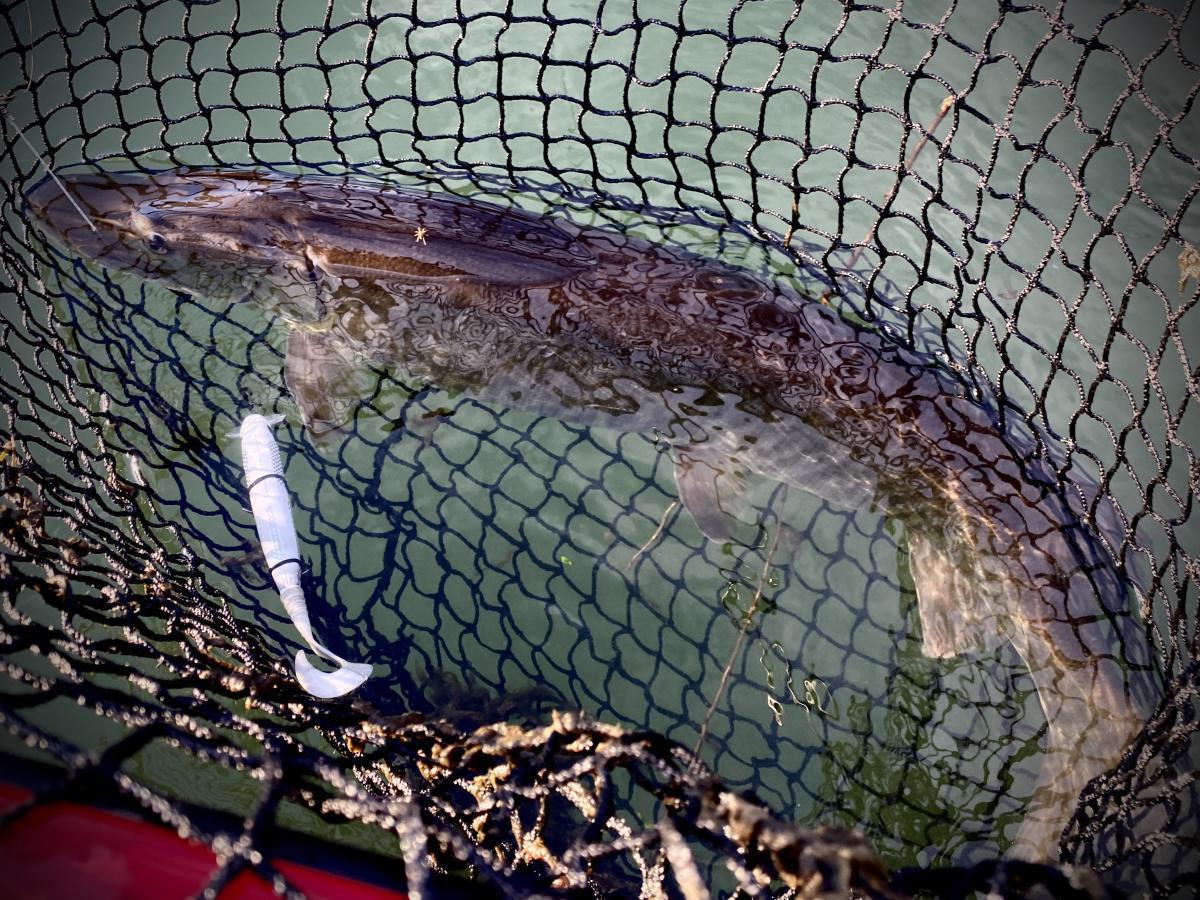 Crankbaiting
.In the mid-1970's I was just a few years into my tenure as editor of Fishing Facts Magazine, which was the first magazine that really taught anglers how to think and fish. We strongly followed the teachings of Buck Perry, who was acknowledged as being "the Father of Structure Fishing". I was lucky to have fished with him several times, and believe me, he forgot more than many of the "experts" we have had in our sport. Buck was big on depth and speed control of lures, and triggering game fish into striking. About the only real popular crank bait we had available at the time was the Cisco Kid. A great lure, but one that really didn't reach the depths I wanted on the cast. A lure that would dig down to at least 9-10-feet and allow me to tip and rip the deep weed edges, and trigger strikes was desired. I wanted to obtain a depth and speed control that very few musky angles were getting…a different crankbait presentation. After experimenting with various lures, I came across the magnum Hellbender, an over-size bass lure that really dug down. Besides jigging, this became my other go-to presentation for several years; a silver Hellbender fished on 14-pound test monofilament (no super braids at the time) that would give me maximum running depth with line I deemed strong enough to handle the 10 to 25-pound muskies we were commonly catching.
Another odd-ball presentation I discovered by accident over 10-years ago came while trying out a favorite type 10-inch crankbait that now came in an 8-inch length. While checking out how straight it ran on a trolling run, the lure kept pulling towards the shoreline. The faster I went, the more the lure would veer to the side. By chance, I was coming up to a long, shallow 5 to 7-foot weedline that we were going to cast. I decided to stay off the edge, holding in about 10-feet of water and run this e-tuned lure along the weedline. This was a much faster way of fishing this breakline, and I wouldn't be running over the top of the muskies in this shallow, fairly clear water. It worked as two nice-size muskies were caught and another technique went into my bag of tricks.
This same de-tuned lure is always in my tackle box and it has been used many times since. An even better situation is trolling it along a shallower rock-lined edge being pounded by wind. It is often dangerous to get tight to the wind-blown rocks, especially on Canadian shield lakes where an out-cropping can suddenly pop up without warning. A de-tuned lure enables me to stay in the safer 10-12-foot range while the lure skips across rocks in the shallower water. If I decide to slow down so the lure will tract straighter behind the boat, I usually rip the lure periodically to make up for the decrease in trolling speed. I've caught dozens of muskies on this side-wards running lure. As they say, "when someone gives you a lemon, just make lemonade out of it".
Thinking a little different from the masses can elevate you above the masses. If you are on waters where most only cast, look for a few trolling situations. If the anglers are mostly trolling, be aware of spots that a troller may not be able to fish very well. Remember, if you fish like the average angler, your results will probably be the same…average.